Save the Broadmeadow Rail Yards
The Broadmeadow Rail Yards is an excellent place to house both a rail and maritime Museum – dont let developers destroy that option!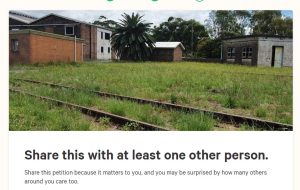 My brother was involved as a volunteer with Maritime Museum at Honeysuckle until it was closed, and they had tried hard to get the site here mentioned  for its replacement.  We don't need more developers here, please consider signing this petition to keep the site in public hands. – Dianne
This is a State government (ex-railways) site (with the loco roundhouse) that we maritimers visited a few years ago – in behind Saddington's and the Arts High School at Broadmeadow – with then hopes of establishing a maritime museum there. It's large, has heaps of community potential and it would be a great shame to see it flogged off for some developer to profit from.
Click on to the link below and sign the petition to save the Broadmeadow Rail Yards for our community!
Thank you for signing the petition.